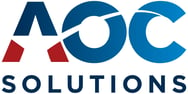 Fairfax, Virginia — Feb. 20 , 2018 — AOC Solutions, Inc. (AOC) is excited to announce the relocation of its corporate headquarters to Fairfax, VA. The recent move positions AOC closer to Federal clients in the heart of Washington DC, and marks the beginning of some exciting changes for the long-standing family-owned, Service Disabled Veteran Owned Business (SDVOB).
After twenty years in business, AOC has restructured into one division focused on the challenges of Federal Accounting and Financial Management. The rebranding initiative builds on all the exceptional work they have done and the accomplishments they have achieved in the Federal space. AOC's logo and visual identity are inspired by a commitment to assist their Federal clients, while also honoring Veterans. "We are not only Service Disabled Veteran Owned, but many of our employees and clients are veterans as well. The new logo and brand resonates with all of us whom served and hold patriotic values near and dear to our hearts," says Chief Operating Officer Tre Cage.
In the next few weeks AOC will continue to release their updated brand identity, which includes a new logo, colors, and font. You'll see the new look transition to the public through their website, LinkedIn, and Facebook. Chief Executive Officer, Allen Cage and Chief Operating Officer, Tre Cage look forward to the transition and are excited to show their clients how dedicated they are to their continued success.
About AOC Solutions
AOC Solutions, Inc., a family run, Service Disabled Veteran Owned Business, was founded in 1996 to provide high level accounting, audit readiness and remediation, program management, and general consulting services to Federal agencies. AOC utilizes decades of combined corporate experience and expertise to support each clients' unique requirements by solving their most complex business problems and delivering successful results.
For more information, visit aocsolutions.com. You can also follow us on Facebook and LinkedIn.