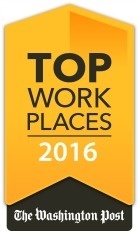 CHANTILLY, Va– June 17, 2016 – AOC Solutions Inc. is pleased to announce that the company has been awarded a 2016 Top Workplaces honor by The Washington Post. AOC has received this honor for three consecutive years — since the award's inception — which ranks the top companies to work for in the D.C. metro area.

The Top Workplaces are awarded based solely on employee feedback given in a survey that measures employee opinions about their company's direction, management, benefits and engagement. The survey is conducted by Workplace Dynamics, a leading research firm on organizational health and employee engagement.
"We work hard to cultivate a company culture that people want to be a part of," said President and CEO Allen O. Cage Jr. "This honor is a direct reflection of each team member who works here and helps us create an environment that fosters collaboration, camaraderie and success."
Rewards and employment perks at AOC Solutions include annual bonuses, a generous sick leave policy, a flexible dress code ("dress for your day") and regular team-building events.
"We are so thankful to be honored with this award for three years in a row," said Denise Roberts, director of Human Resources for AOC Solutions. "Our positive company culture truly starts at the top, thanks to the leadership and vision of our President and CEO, Allen O. Cage Jr., and our executive management team."
Interested in joining the award-winning team at AOC? Check out our Careers page for current job opportunities and more information on company benefits and employee testimonials.
The Washington Post honored a total of 150 companies with this award at a celebration on June 16. To read more about The Washington Post's 2016 Top Workplaces, visit wapo.st/TopWorkplaces2016 .
About AOC Solutions
AOC Solutions, Inc., headquartered in Chantilly, Virginia, is a veteran-owned company whose innovative commercial payments technology, federal financial management and managed services operations have been serving thousands of corporate, government, public and private sector customers since 1996. AOC's strategic relationships within the financial management and integration markets enable a streamlined approach to commercial payments from virtually any accounts payable or general ledger payments system in use today. Follow us on Twitter, Facebook and LinkedIn.
Media and Analyst Contact:
Nicole Gombos
AOC Solutions
nicole.gombos@aocsolutions.com
703.721.8771